Congratulations, a new baby is on the way! To document your tiny bundle of joy's life from the very beginning, many expecting mothers will choose to do a maternity photography session. These sessions are a great way to capture this special time, even if it's not your first baby.
So you're in front of the photographer, what do you do besides smile? This is where I come in handy. I've photographed dozens of maternity photo sessions and I have to admit, they are one of my favorite shoots to capture. I've shot everything including serious, classic, humorous, and candid.
However, before we head straight into some amazing visual ideas, take a few moments to consider the following:
Time your photoshoot around the middle of your 7th month:
You and your bump will look plump and beautiful, and you should be clear of nausea and tiredness. Your energy levels should also be a little higher. Leaving it later than 7 months may mean it becomes uncomfortable for you to walk or stand for long periods. Sitting poses may be difficult.
Choose a photographer who makes you comfortable:
No matter the genre of photoshoot I work on, it's important for me and my client to try and meet each other prior to the session. This includes maternity photo sessions. For the client, it's a great way to get to know me and my style of photography more and to understand what the shoot entails. How comfortable you are during the shoot shows in your photographs. It's worth getting to know your photographer first.
Location, location, location!
Where do you want the shoot to take place? At home, outdoors, in a studio? Depending on the location this will help you decide on what you wear, how long you want the session for, the 'style' of shoot you'd like, and if there is a hair and makeup package (check out my Stylish Collection for this!). The location you choose should make you feel comfortable and relaxed with your surroundings.
Comfort V's Style:
A while back I wrote a blog piece offering advice and recommendations on what to wear for photoshoots. It's definitely worth a read! However, to summarize, your choice of outfit(s) is essential for the look and style of your session. Show off your baby bump with your outfit. You don't want to hide it away. It's the star of the show!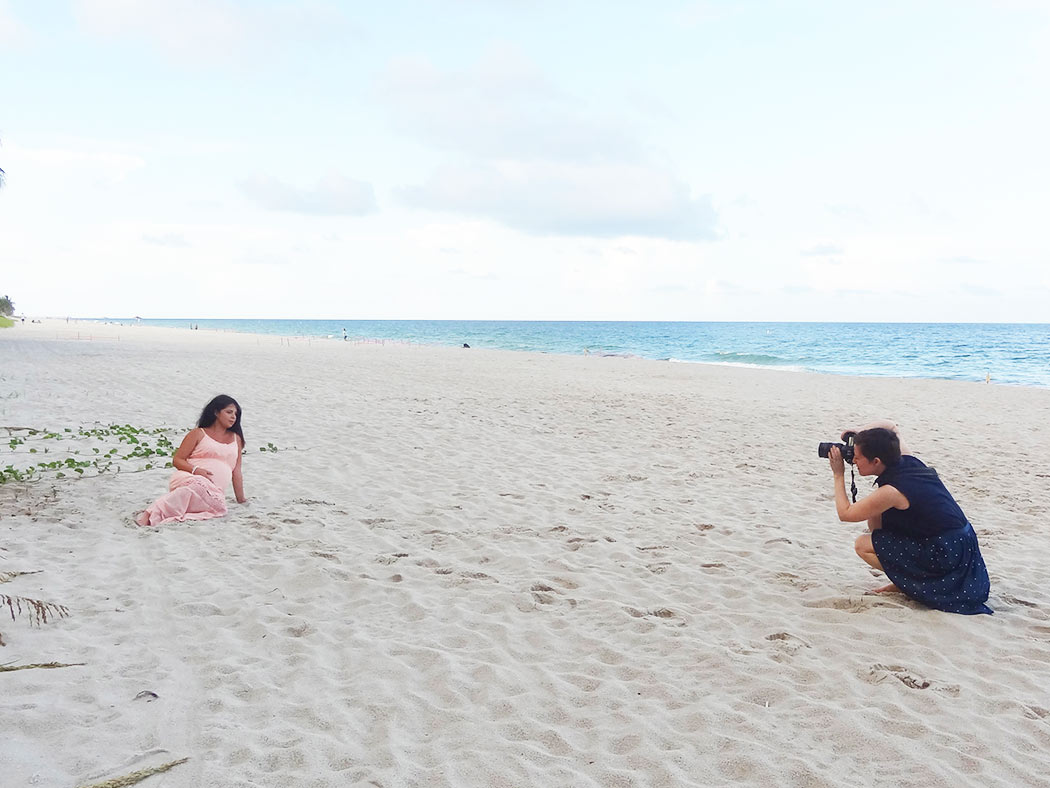 Here Are My Top 8 Photoshoot Ideas To Help Expectant
Mothers With Their Maternity Photo Session:
1. Get Your Partner And / Or Family Involved

:
Besides taking solo pictures of you and your baby bump, think about bringing your family for a complete experience. You can combine maternity photos with family photos!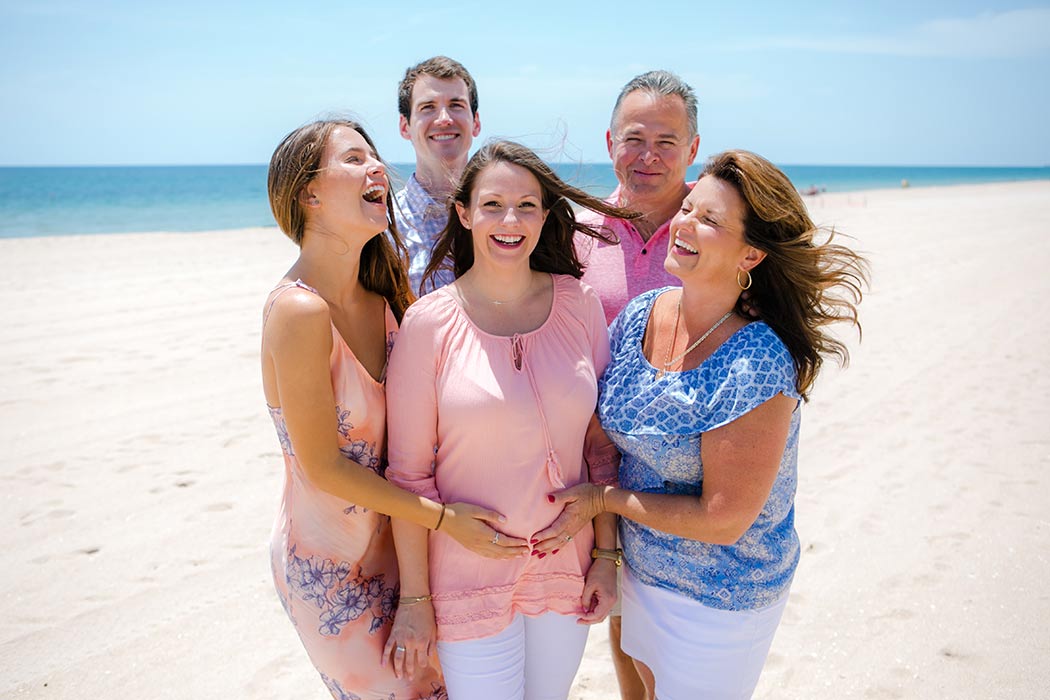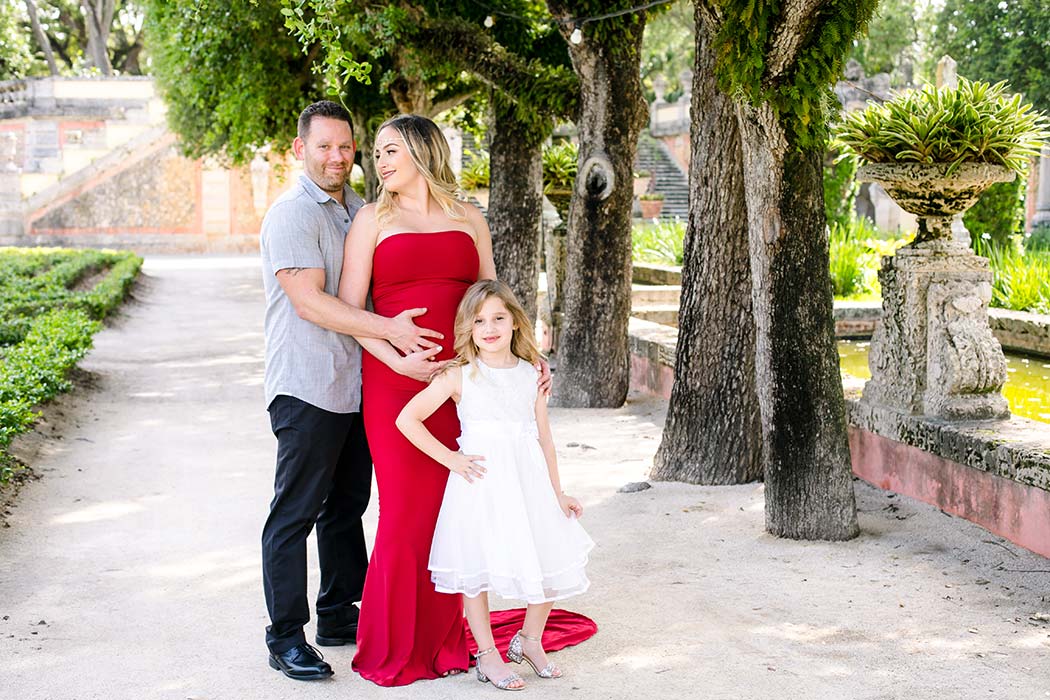 2. The Side Belly Shot:
This is one of the most common maternity pictures. It can involve you alone or with a partner. It may not necessarily involve your face, but has a clear focus on the belly from a side angle. This really highlights the perfect shape of your bump. If done in the right light and background settings, this shot can turn out great.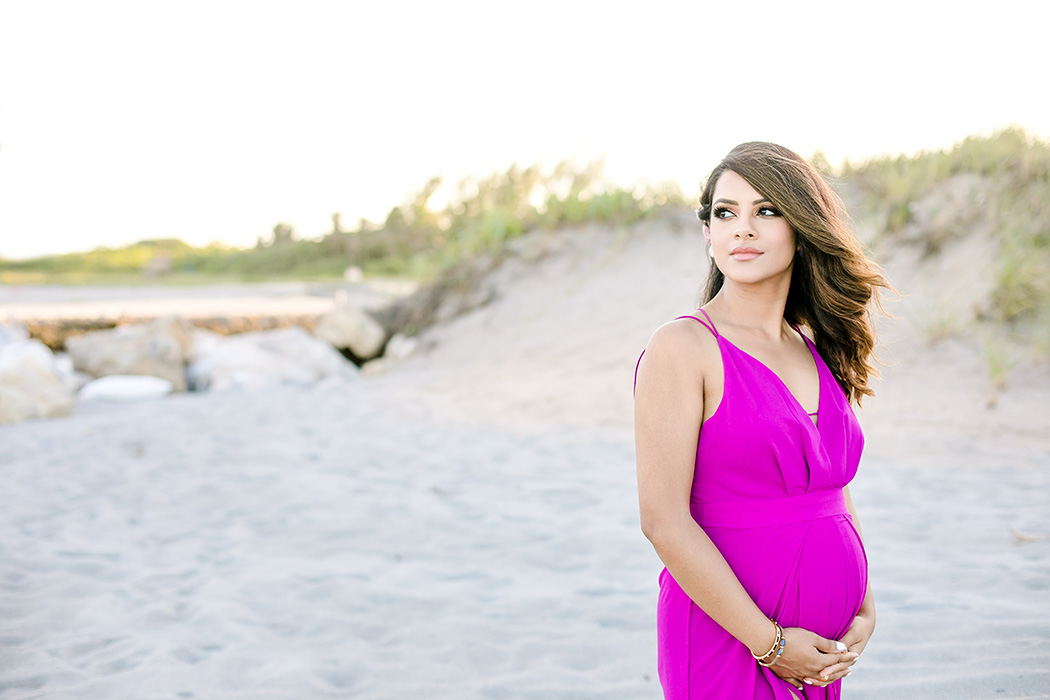 3. The Use Of Props
There is no limit to the number of props you can use for a maternity photoshoot. Some examples could be flowers, your baby's first sonogram, baby booties, letter blocks, balloons, or baby toys. You can even incorporate color to signify the gender as shown below in the gender reveal photoshoot I recently photographed.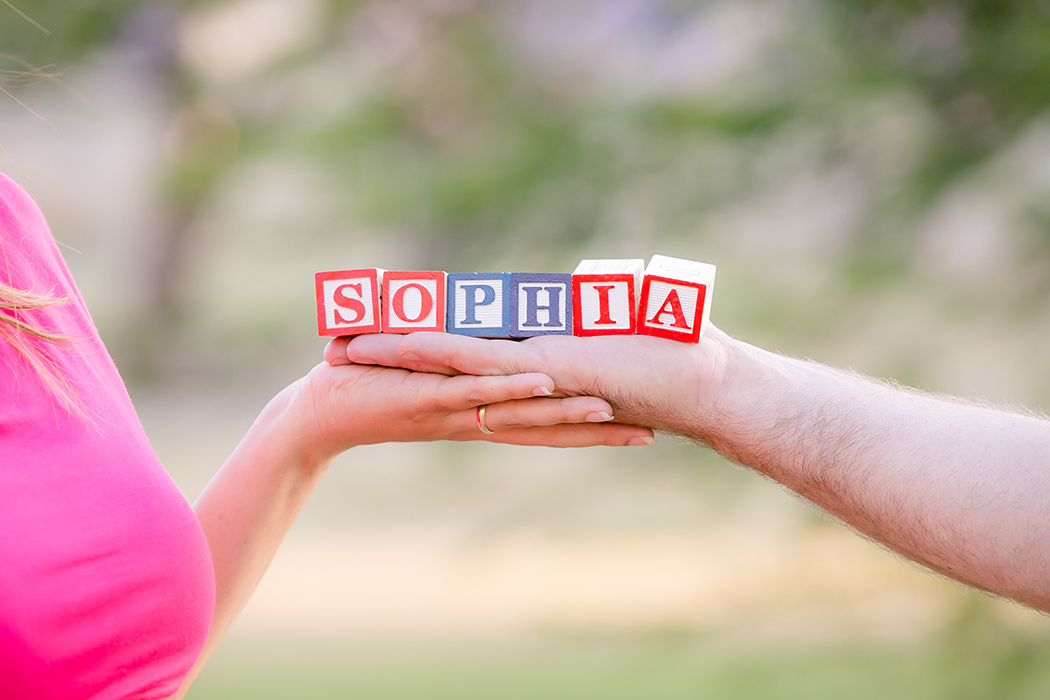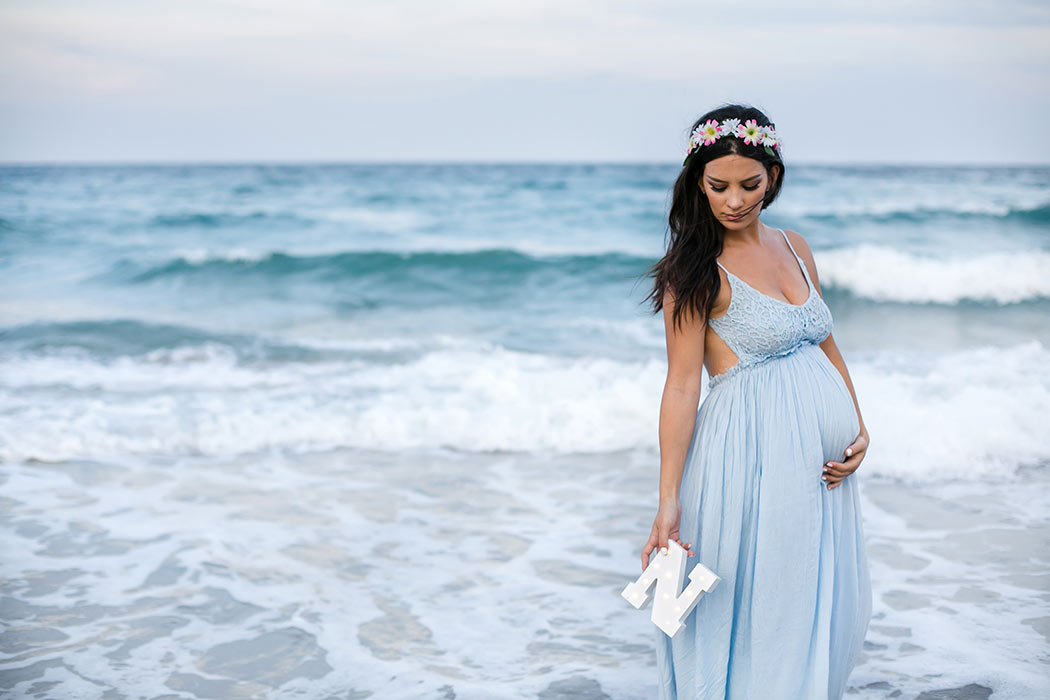 4. Take It To The Beach
Here in Florida we are spoiled with beautiful white sandy beaches. So what better way to show off your belly whilst getting your toes sandy? You can write creative words, sayings, or your baby's name in the sand.  The soft light and colors will really compliment your gorgeous baby bump. Perfect for sunrise or sunset pictures.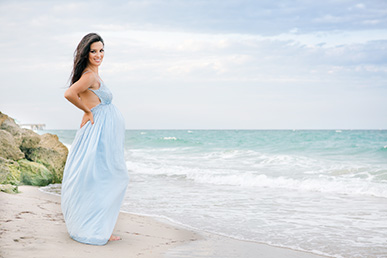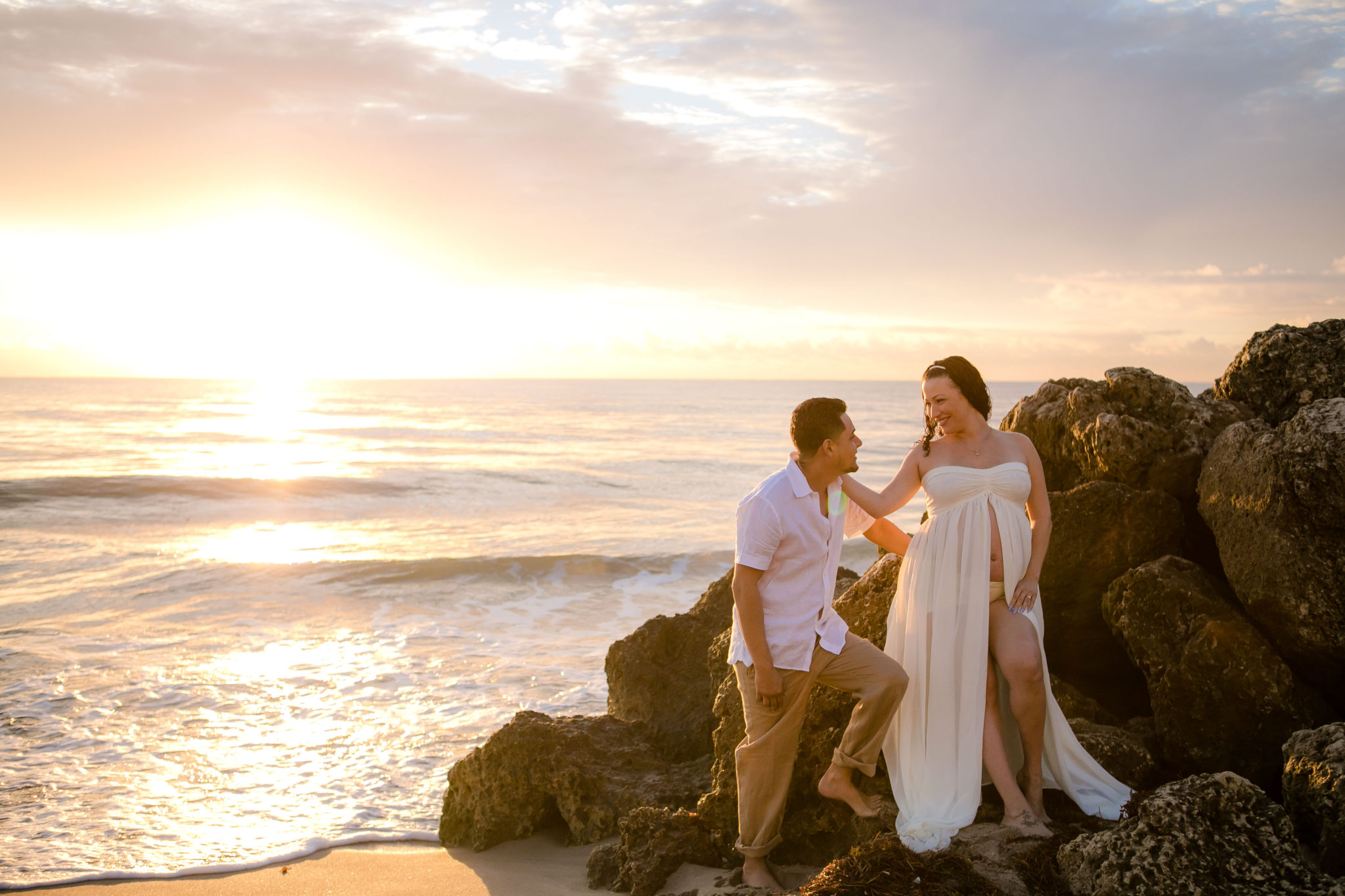 5. Kissing The Belly Bump:
An oldie but a goodie. Dad's to be love to kiss the baby bump. And so do children!

6.  Hands On The Belly:
It's very natural for expectant moms to want to touch the bump!  This is really effective in drawing attention to your belly and gives you a place to put those hands!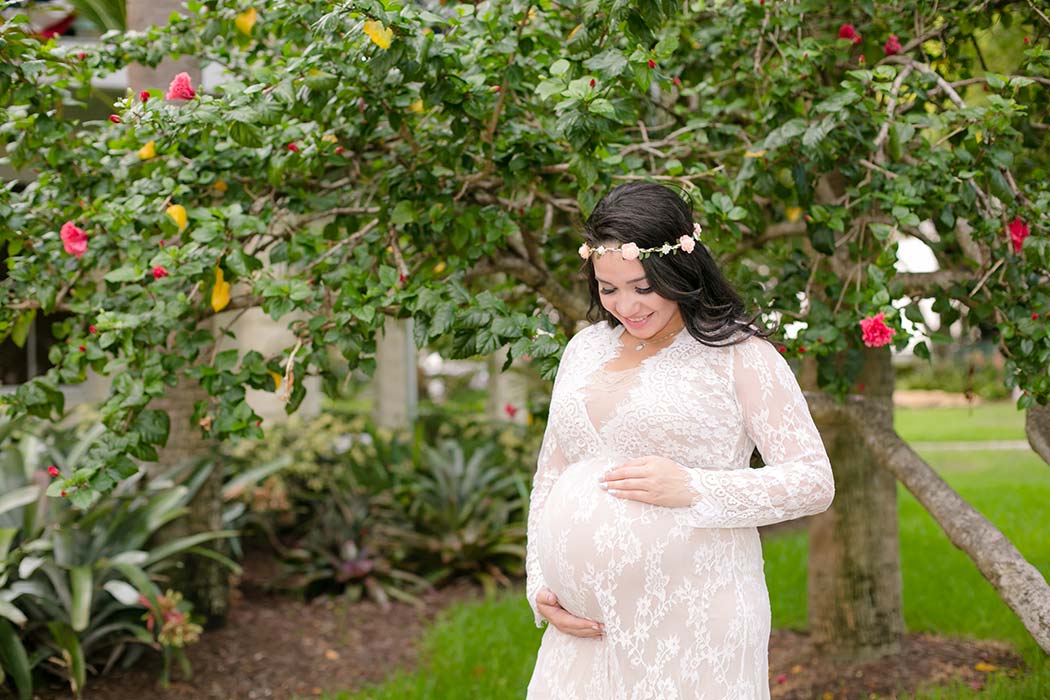 7. Dress It Up:
It's nice to get dressed up sometimes, and being pregnant is no exception. There are hundreds of styles of maternity dresses on the market. If you want to show off that bump, a sheer open dress is the best way to do that. Floor-length dresses are super feminine and show off your curves in all the right places.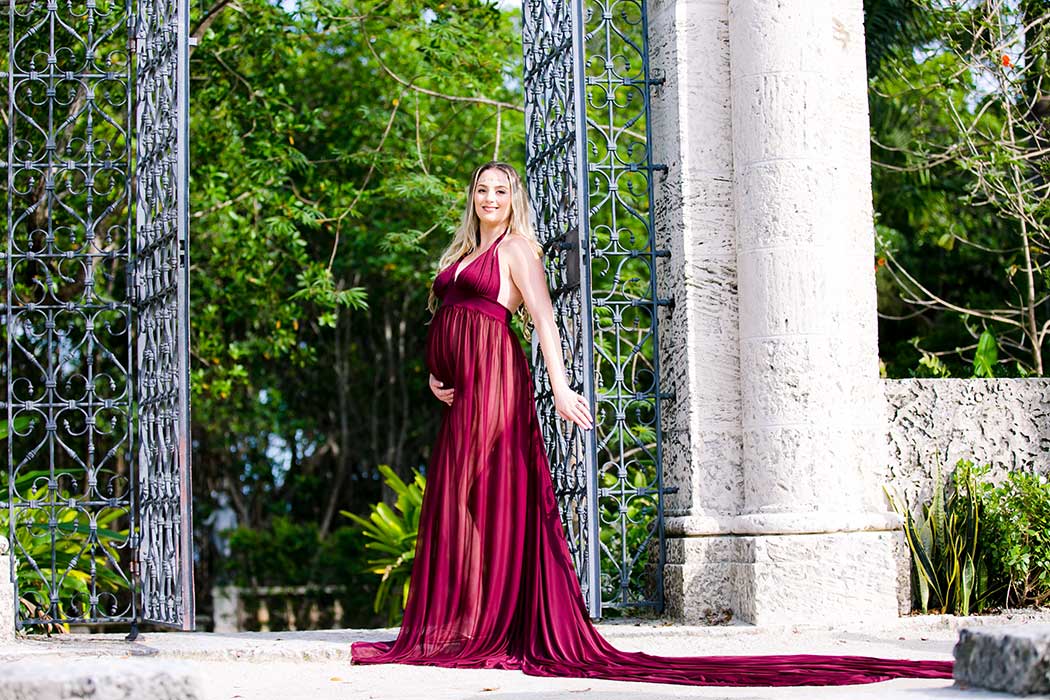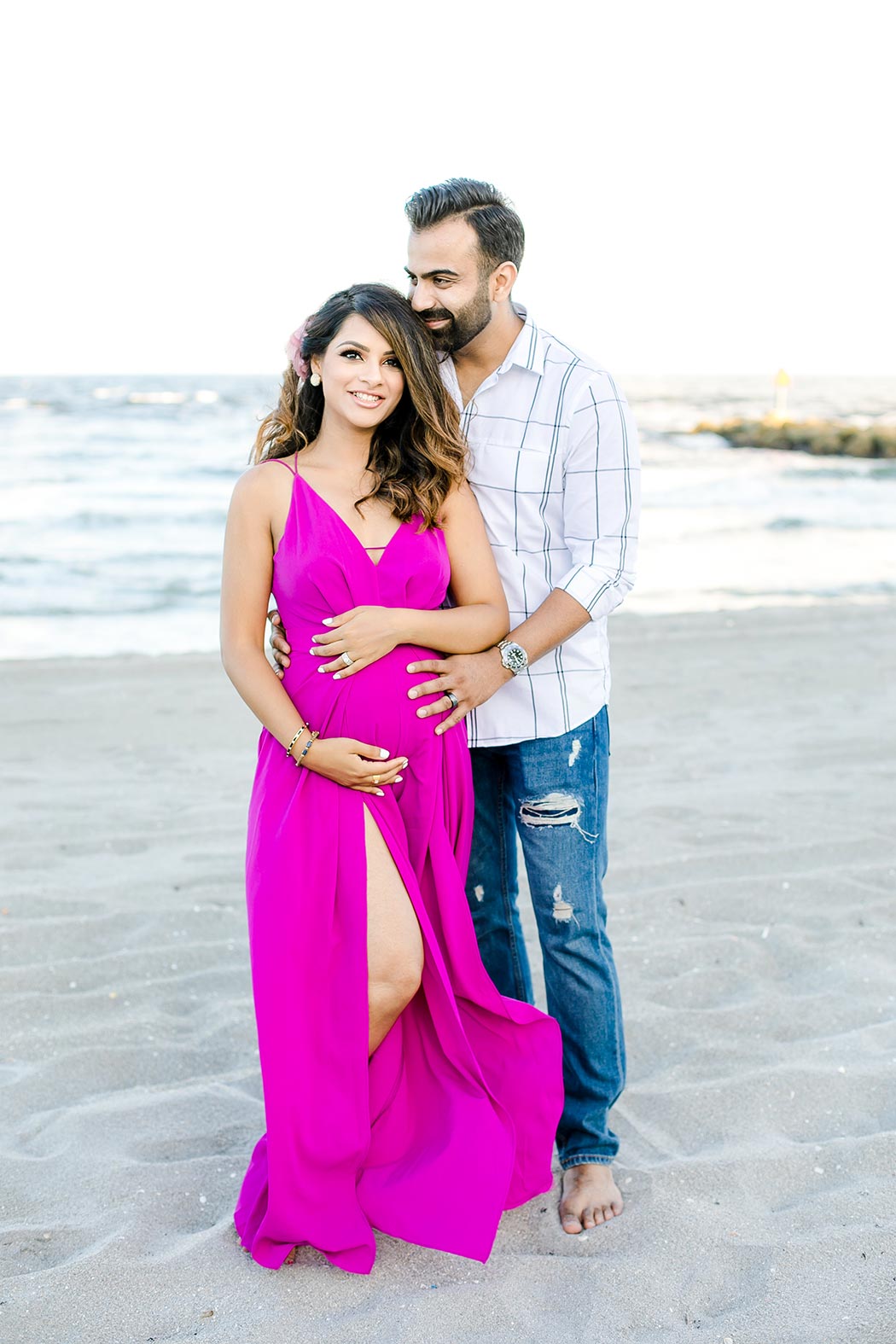 8. Standing Vs. Sitting:
For pregnant women, standing is usually more flattering. However, your photographer should find creative angles to shoot you whilst sitting down, such as on your knees facing each other, or lying against your partners legs. I always feel sitting down maternity poses look better with a couple or with your family together.